With these tiny computers from Intel, you will not only turn your ordinary TV into a Smart TV, you will turn your TV into a fully functional and powerful personal computer (PC).
One year after releasing its first Compute Sticks, Intel has unveiled at CES 2016 five new Compute Sticks based on 6th Gen Intel Core M and the latest quad-core Intel Atom processors.
Tiny devices just slightly larger than a standard USB thumb drive, the Intel Compute Sticks can transform any TV or display with HDMI into a complete computer with Wi-Fi and Bluetooth connectivity, and additional USB ports.
So far,Intel has provided specifications for five models of the Intel Compute Stick.  Essentially, there are three new hardware variants with Core m5, Core m3 or Atom processors with the m3 and Atom variants available with or without Windows 10 pre-installed.  The m3 and Atom models are presumably aimed at consumers (as well as kiosks, signage).  The expensive m5 model is presumably aimed at commercial applications and only comes without a pre-installed operating system.
These tiny Intel Compute Sticks will be great for compact home theatre setups with storage provided by addon USB hard drives or NAS.  You could also use them as Plex servers/clients, torrent downloaders with a VPN or highly portable computers for home users or mobile workers.  Watch this space for instructions on how to set all of these up.
Core M models
Intel Compute Stick STK2m3W64CC with Core m3-6Y30 processor including Windows 10 (this is the consumer model) US$399
Intel Compute Stick STK2m364CC with Core m3-6Y30 processor (mostly same specifications as above but no included operating system) US$ TBA
Intel Compute Stick STK2mv64CC with Core m5-6Y57 vPro processor (no included operating system) US$499
The Core M models have three USB 3.0 ports (two on power pack), Wi-Fi with fast Intel Dual Band Wireless AC 8260 and Bluetooth 4.2, 4 Gb DDR3 RAM, 64Gb eMMC onboard storage and micro SD slot. The Core M processors have onboard HD graphics capable of 4K video (but only HDMI 1.4b).
The m3 model comes with or without Windows 10.  The m5 model does not have any option to include Windows 10 so users will have to either buy Windows 10 or install a free OS like Ubuntu.
More specifications are available here from Intel.
Atom model
Intel Compute Stick STK1AW32SC with Atom x5-Z8300 quad-core processor including Windows 10 (cheaper consumer model) US$159 
Intel Compute Stick STK1A32SC with Atom x5-Z8300 quad-core processor (no included operating system) US$ TBA
The much cheaper Atom model has two USB (3.0 and 2.0) ports, Wi-Fi with  2GB on-board RAM Intel® Dual Band Wireless AC 7265 and Bluetooth 4.0, 2Gb DDR3 RAM, 32GB eMMC onboard storage and micro SD slot.
The new Compute Sticks will be released to market in February 2016. Stay tuned here for an unboxing and review of the new m3 model (STK2m3W64CC) as soon as we can get our grubby paws on one.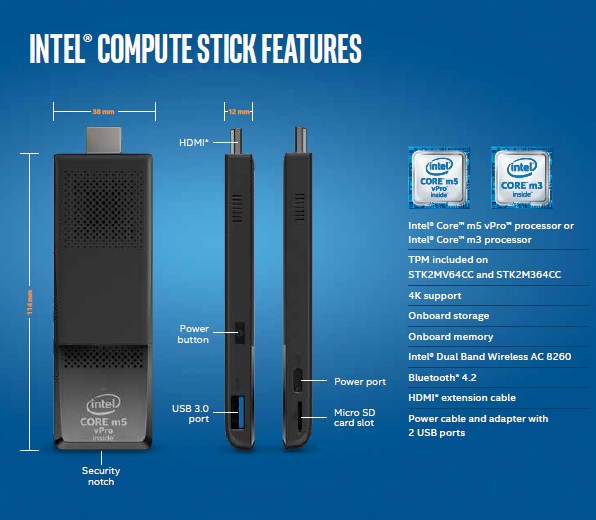 Sponsored link: